MAC Cremesheen Glass Lip Gloss
Hot
October 03, 2014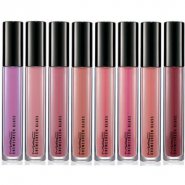 Product Info
Where to Buy
Available at MAC stores for R210.00
The MAC Cremesheen Glass lip gloss is a combination of the MAC Cremesheen lipstick and the gloss effect of the MAC Lipglass. The Cremesheen lip gloss is available in 24 shades, has an easy to use applicator and gives you soft lips in great colours without feeling sticky.
Are you addicted to MAC Cremesheen glass? Yes or no, tell us why in a review post below. 
User reviews
MAC Cremesheen Glass Lip Gloss
This is an amazing formula! It is high shine and ultra comfortable.

The lighter shades are barely noticible and the darker shades are more true to colour.

It is not as long lasting as the normal lip glass, because it has absolutely no stickiness. Eventhough it looks very pretty over a lipstick - it will definitely reduce the wear time.

Still a great product and worth a try.
Product Recommendation
Would you recommend this product to someone else?
Yes
Would you repurchase this product?
Yes
PRETTY IN PINK
I received this MAC LIPGLOSS and used it in conjunction with a pink lipstick which was matte in texture in order to give my lips a bit of va va voom.

I am not usually a lipgloss fan as I do not like the feeling that some glosses leave, you know that sticky feeling, like a hot summer night in Durban?

I was happy to read that this gloss was not meant to be sticky, however I found that on application on the lips without lipstick below, it can be a bit sticky, the sticky feeling does wear off thought, happily.

There is pronounced less stickiness when applied on top of lipstick which is awesome! I found that this aided the lipstick in lasting longer.

A bonus is the wonderful candy floss smell from the Playful Petal gloss which I tried.

Overall, I am happy with this gloss and truth be told, one cannot go wrong with MAC. Its effortless yet chic.
(Updated: October 03, 2014)
MAC Cremesheen Glass Lip Gloss in playful petal
The MAC Cremesheen Glass lip gloss in the shade playful petal is definitely a head turner. This fabulous bright, pink shade is all you need to take a natural makeup look to new heights. The MAC Cremesheen Glass glosses are pigmented so the colour looks great after just one layer; however it did not last all that long so reapplying was necessary. These lip glosses are said to not be sticky but I found this one incredibly sticky which was somewhat disappointing. All in all this lip gloss does the trick, whether applied alone or over a MAC lipstick.

Have you tried any other shades in this range? Tell us about your MAC Cremesheen Glass lip gloss experience...