Lip Ice Cherry
Hot
May 22, 2013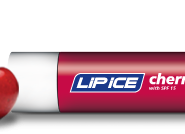 Product Info
Where to Buy:
Just about everywhere!
Lip-Ice lip balm, the original South African lip care brand, cares for your lips by nourishing and protecting your lips to help maintain their natural moisture, leaving them healthy, smooth and supple.

So… if your lips start to get dry or chapped, whenever you need it, wherever you need it, trust Lip-Ice lip balm to deliver real lip care benefits that South Africa have come to trust since 1965!

Lip Ice is also available in variety of formats and sub-ranges.

Lip Ice Cherry provides you with the hydrating properties of Shea butter, the natural antioxidant benefits of Vitamin E and the soothing elements of silicone to naturally protect your lips for a softer, suppler and hydrated feel.

Combined with a delicious cherry fragrance and a touch of red colour, Lip Ice Cherry will leave your lips soft, sweet and fragrant.