Kardashian Beauty A Week Of Kisses
Hot
December 27, 2013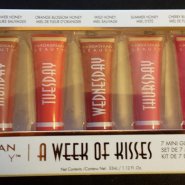 Product Info
Where to Buy:
Suttafords and Red Square Edgars stores
A set of seven beautifull lipglosses ranging in different colours for each day of the week with a yummy honey scent.
User reviews
Keeping up with a Kardashian Week
I am a HUGE Khloe Kardashian fan and tried a number of the Kardashian products. There lip product is my favourite out of the range. It various honey flavours. It's not sticky and really hydrates your lips. I did expect a more "glammy" packaging because it is the Kardashians after all.
The formula works for my lips and keeps them hydrated. I like the variety of colours as well. It gorgeous.
Was this review helpful to you?
Kardashian Beauty A Week Of Kisses
This is an amazing lippy kit perfect for the holidays! The Kardashian Beauty brand is new in store and ranges in many different beauty items such as lip plumpers, lip balms, lipsticks, eyeshadows, bronzers, nail polishes and much more! If you are more of a lip gloss kind of girl, this would be an ideal kit for you. The kit consists of 7 different colours of lipglosses from neutral to hot pink i.e Raw Honey, Wildflower Honey, Orange Blossom Honey, Wild Honey, Summer Honey, Cherry Blossom Honey and Blackcherry Honey, and ,each of them has their own special day of the week to be worn too! Each one has a yummy honey flavour to it with a non- sticky formula, hence, honey is a great beauty ingredient for dehydrated lips, and is packaged in a cute mini tube which is convenient enough to slip into your pocket or handbag. It's a bit pricey (R210), but i think it's worth the purchase!Im a Kardashian fan, and i wouldnt mind buying some more of their beauty products :)
Was this review helpful to you?