GOSH Kiss me lip balm
Hot
February 17, 2014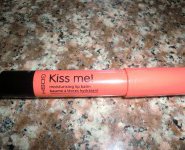 User reviews
Gosh Balm in Hot kiss
finally got myself a Kiss Me Balm from GOSH! I have an addiction to lip balms, glosses and everything else lippy! No matter how many I have, there are still some products you just need! And this was one of them!

These balms are meant to be 3-in-1:
-Colour of a lipstick- Check
-Moisture of a balm- Check
-Shine of a gloss- Check

There are six shades to choose from:

Innocent Kiss (natural/nude)
First Kiss (light pink)
Flirty Kiss (orange)
Sweet Kiss (bright pink)
Irresistible Kiss (deep red)
Hot Kiss (hot red)

I have five swatched on my hand, I think I am missing the light pink.

I got myself the Hot Kiss, which is the hot red shade, third swatch from the top!

These are the swatches after some wear, the colour is still great, but the gloss is gone, they look more like stains now.

I am in love!
Was this review helpful to you?
Kiss me
This is the best lip balm i've ever used. Beautiful colours that last & it leaves your lips feeling moisturised for hours. I've been using it in place of my lipstick. I recommend this product 100%.
Was this review helpful to you?