Catrice Infinite Shine LipGloss
Hot
March 18, 2014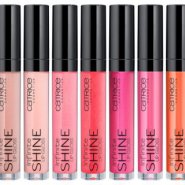 The next generation of CATRICE lip gloss for intense shine and bright colours. Thanks to its moisturising formula, the Infinite Shine Lip Gloss guarantees gorgeous pampered lips without leaving behind a sticky sensation. Available in a large choice of 13 shades ranging from subtle to dramatic
User reviews
Infinite Lipgloss
Infinite lipgloss is a budget friendly sparkly lipgloss. Catrice Infinite Shine Lipgloss are a generously sized that arrives in a circle barrel tube with a flocked tip applicator for application.

I purchased three shades and I was delighted with the formula on all three. These have a thicker gel-like consistency that feels plush on my lips. It feels quite hydrating and lovely on my lips without being tacky or sticky. The three shades I have has a nice sparkly finish but nothing chunky or too glittery. And it lasts very well without dulling out.

This comes in intense shine and brilliant colours.
This lipgloss has a glossy finish great color selection to choose from and its definitely true to its color. It has a beautiful shine to the lips.

It has a lovely moisturising formula, the Infinite Shine Lip Gloss guarantees gorgeous pampered lips without leaving behind a sticky sensation.

Catrice offers Infinite Shine Lipgloss in 12 shades and I can see myself happily purchasing more as I enjoyed the formula.

If you're on a beauty budget these are ones to check out!
Product Recommendation
Would you recommend this product to someone else?
Yes
Would you repurchase this product?
Yes
Catrice Infinite Shine LipGloss
Another really great item I purchased is the Catrice's Infinite Shine Gloss as I wanted to jazz up the natural look of my lips. I purchased one of the new shades in the range, Lost in The Rose Woods (how cute is that?). There are 13 shades in this range all with equally cute names.

Honestly I feel like Catrice can do no wrong at the moment and I am loving the colour choices in this range, they are so on point!

This gloss leaves a gorgeous glow on the lips without being sticky. It also doesn't leave my lips dry which is a big bonus and the shine lasts about an hour before I need to reapply, which in my opinion is the norm for this type of gloss. Also the packaging is a winner in my eyes since it has one of those self cleaning sticks which means no excess gloss in the lid or should I say handbag.

At the bargain price of R52.95 at Dischem, it is most definitely going to be a staple in my handbag.
Sugar Crush
Catrice is my new little obsession, priced just right with an up market looking packaging! Every-time I go into Dischem I am lured into purchasing something - anything!

When I saw this gorgeous nude sparkly shade I was instantly drawn in, subtle shimmers in a pinky shade what is not to love! The only down side is that it is quite grainy because of the sparkles. That being said I would still recommend checking this range out!