BORN LIPPY WATERMELON LIP BALM
Hot
July 03, 2013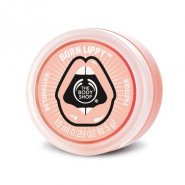 Product Info
Where to Buy
The Body Shop and clicks
Peachy in colour
User reviews
Very disappointing
For the price I found this product highly disappointing. It made my lips dry out completely! The smell is great but the taste isnt. I wont be using this again.
TBS - Born Lippy Watermelon lip balm
A small cute lip pot containing good wholesome nourishment for the lips. It gives of just the right amount of gloss appearance to the lips while leaving it soft and supple. It does have a bit of an odd taste though as previously mentioned, but nothing to hectic. The aroma of this particular 'flavor' is highly appealing to me, although strawberry is by far my favorite. If you don't like the texture of lip gloss, Then this will be a good alternative to give your lips that something extra without the thick/sticky/over glossy appearance associated with some lip glosses out there. Overall, a good appealing lip balm.
LIP BALM
I wont buy it again though