Body Shop BornLippy Passionberry Lip Gloss
Hot
October 14, 2013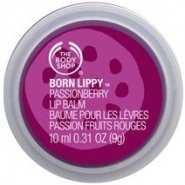 Product Info
Where to Buy
Body Shop, Click, anywhere that sells Body Shop products.
This product is not only compact and easy to slip into your back pocket or handbag it also smell great and keeps your lips moisturised for hours at a time.

My favourite is the Passion Berry flavour but there a variety of other flavours to choose from.

User reviews
Born Lippy
I love the glossiness of this balm, and it is quite moisturising too! I love it for the day
Was this review helpful to you?
BornLippy Passion Berry lip balm
Leaves lips feeling moisturised and glossy while smelling delicious... As an added bonus the balm tastes as good as it smells!

A definite Must-Have!
Was this review helpful to you?