Bobbi Brown Lipgloss In Nude
Hot
April 17, 2014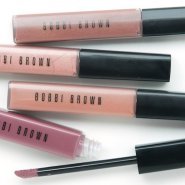 Product Info
Where to Buy
Cosmetic counters
Small, cute bobbi brown lipgloss with a doufe applicator.
User reviews
Bobbi Brown Lipgloss In Nude
I really like these lipglosses from Bobbi Brown, they small and a bit of a square shape to it.

I received the one in nude as a gift so I am not sure as to how much it costs. This lipgloss makes my lips super shiny and lasts about an hour which is the standard staying power of I lipgloss I have noticed. I usually put on some lip balm before adding my lipgloss.

I really like how it looks and I am quite happy with it.

My Overall Ratings :

Packaging: 7/10

Quality : 7/10

Long Lasting: 7/10

Candy Factor: 7/10


Was this review helpful to you?