Avon Ultra Glazewear Lip Gloss in Apple Cinnamon & Mauve Movement
Hot
August 31, 2013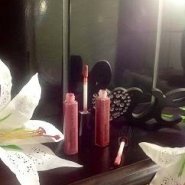 Product Info
Where to Buy:
from Avon Consultants www.avon.co.za
Apple Cinnamon has a lovely red brown gold sparkle,and Mauve movement a purple pink shine.
These glosses have a luxurious feel on your lips,I cannot say enough good things about these two that i tried.
They give colour and shine,so no need for a lip stick.But if you want to play around feel free to do so gives amazing results however you choose to apply it.
The sponge tip of the wand is amazing as your gloss won't drip and mess all over the place.
The sponge tip of the wand ,also allows you to outline perfectly each time you use your gloss.
It comes in a sleek see through bottle,that allows you to see the colour.It fits perfectly into any handbag.
The cap of the gloss securely twists into position,so that there is no little accidents of lip gloss leaking out.
It's not sticky at all,yet it's thick enough not to slide off your lips.
What is also great about these glosses is they don't settle into lip lines.
I so love these beautiful lip glosses that Beauty Bulletin and avon sent me to review.
Thank you ladies,I will be getting other shades to try out as they are the best lip glosses I've tried to date and they are affordable and they look stunning.
User reviews
Glossy win
Much better than the Lorena's I have encountered on the market. Colors suited to all skin tones and in betweens. Avon considers SPF, high wear and enriching the lip which is sensitive. Thanks to BB for sending this to me.
Stunning for warm skin tones
I was sent these products for review by Beauty Bulletin and Avon. I received them in Apple Cinnamon and Mauve Movement. These glosses come in the standard Avon lip gloss container. It is a plastic rectangular tube and the applicator is a sponge tip wand. This is convenient as the container won't roll around on your dresser nor will it break in your bag or if it falls out of your pocket. The con is that when the tube begins to get empty, you struggle to get the last bits out of it. No I don't go through lipgloss that fast. I've had a different Avon lipgloss before but in the same type of container.
I find that these glosses are quite moisturising as there's been days where I've forgotten my lip balm at home and used only one of the gloss.
Mauve Movement is subtle mauve that works perfectly with my skin tone. Also it's not over powering so I find that it goes great with different eye looks, especially winger liner.
Apple Cinnamon is a warm reddish-brown, which comprises of tiny gold glitter that dazzles in the light. I find that it works well on its own but a thin layer also works well over lipstick.
The SPF 15 in the gloss is not high, but it's better than nothing. The glosses are not thick and sticky, but I do find that they don't last very long.
Between the two glosses my favourite would be Mauve Movement, as I find that it's suitable for daily wear. However, I believe that both colours work really well with people with medium, caramel or olive skin tones. Beauty Bulletin made really a great choice in choosing these shades to send to me.

Avon Ultra Glazewear in Apple cinnamon & Mauve Movement
Ladies you haven't tried Lip Gloss,until you have tried Avon Ultra Glazewear Lip Gloss.There is a variety of shades,a must have for summer with its SPF 15.
Moisturizing and easy to use with beautiful results each time you use your Avon Gloss.