Yardley Stayfast 16 in Toast
Hot
July 08, 2013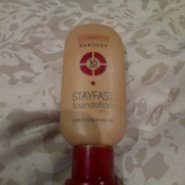 Product Info
Where to Buy
Clicks, Pharmacy, Foschini
non greasy, easy to apply, blemish covering, perfect color
User reviews
Noooooo!
I don't know what it is, but I'm just not a fan of Yardley's foundations.
This one in particular is probably my least favourite.
While I like a full-coverage foundation (which this one is), it just feels heavy and as if my face is being suffocated.
It definitely did cover all my imperfections, but after a few hours of wear, my skin looked oily and gross, and the foundation had oxidized, so it no longer matched my skin tone. What a disaster!
I think this might be a good option for someone with very dry skin, but it unfortunately didn't work for me at all.
Product Recommendation
Would you recommend this product to someone else?
No
Would you repurchase this product?
No
Yardley,does stayfast
Oooh there goes one of my favourite foundation,this product does wonders for my skin,covering my blemishes/scars like i have been photoshopped,it took me ages to find the perfect foundation,and i can say i have finally found it in Yardley,i love the fact that it really does lasts long and i dont powder my nose that often.
Yardley 16 Foundation
This Foundation covers my blemishes, I first apply my moisturiser, then sunblock eventhough it has a built in spf 15, I still use sunblock, then ponds bb cream in beige follwed by image face powder, my skin looks absolutely flawless, this is the one product I CANNOT do without!