Yardley Colour Correcting Cream
Hot
July 10, 2015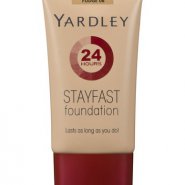 Product Info
Where to Buy
R99.95
Available at DisChem stores

Specifically developed to retain all the skincare benefits of a BB cream, packed with nourishing ingredients such as Vitamin C, E and anti-oxidants, this CC cream is an ideal replacement to your moisturiser, primer, sun protector and foundation. The complete correction has an SPF 30, ensuring that skin is not damaged from sun and provides a flawless finish, improves uneven skin tone and hydrates the skin. 
Available in six shades and are suitable for normal, combination and oily skins.
User reviews
all in one too much for 1 product
This product for me attempted to do too much.firstly i found this product to just perform as a tinted moisturiser.it left me shiny by 10 and seemed to all but disappear into my skin.dont put away your primer concealer sunblock and powder just yet.
I took this on a trip and felt it couldnt perform to all it stated it would.
Was this review helpful to you?
Yardley Colour Correcting Cream
This is a real bargain product that delivers much more than one would expect from the R99 price point! As a replacement to my moisturiser, SPF and foundation, this has taken centre stage in my bathroom drawer.

The coverage of the CC cream means a great blank and even canvas for my makeup of the day. You can apply a foundation over it or leave it just as it is as all signs of redness and discolouration were covered up! I would however note that grey tones within the foundation leave skin looking slightly ashes, so if no foundation is worn, I would definitely recommend a bronzer.

Was this review helpful to you?