NEW Smashbox Photo Filter Creamy Powder Foundation
Hot
November 24, 2014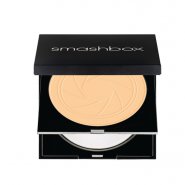 Product Info
Where to Buy
Woolworths, Foschini, Edgars and Red Square stores for R425.
Smashbox Photo Filter Creamy Powder Foundation 
User reviews
SMASHBOX Photo Filter Creamy Powder Foundation
Love this stuff! The shade range is awesome! The formula is amazing! It is super smooth, nicely pigmented and does not feel heavy on the skin. It does blur pores and fine lines. It also lasts really well on the skin and does a pretty good job at controlling oil.

I do use it with the Camera Ready BB and the Photo Finish Primer and this is just such a nice combo. This powder foundation applies beautifully over top of all these products.

I paid R470 @ Redsquare and I will absolutely repurchase this again and again.
Product Recommendation
Would you recommend this product to someone else?
Yes
Would you repurchase this product?
Yes
(Updated: November 24, 2014)
Powder foundation? I'll take it!
I was a bit apprehensive to try out powder foundation, as I usually associate this type of foundation with very oily skin, which I don't have. I also don't like mask-like, caked on foundations, but I mean, if you have the chance to review Smashbox (as I'm a believer in their primers!) you better take it!

First impressions were good. The packaging is sleek, has a spacey mirror and houses a sponge on the other side of the compact. Perfect for retouching on the go! I am proud to display this in my makeup compartment and answer 'oh this? Yeah, my Smashbox ... I like it' when friends ask, haha!

But packaging aside, I had a pleasant surprise when I started applying the product. I have quite a bit of fine lines, enlarged pores around my nose, and a bit of freckles on my forehead. When I applied the product, it was as if someone Photoshopped my face. Hashtag, NO filter! I had to blend it in quite well, otherwise the product might end up looking a tad cakey, but a bit of a blend, and a spritz of a facial mist, and you are good to go!

As for durability, I am pleased. I had a lengthy brunch session and a stroll on Saturday, and took a nap during our suburb's two hours of load shedding without taking off my makeup (which is something you SHOULD do, by the way!) and it stayed on my face!

I am wearing this product again today (and I have quite a bit of breakout, very little sleep and feeling a bit sickies today) and, well, it is still intact! I notice how your blush and bronzer applied over this product, also stays on longer.

As for the price ... this might be a tad expensive for everyone's taste, but let's see how quickly this product hits pan, and then I can calculate the value for money over time period ratio. But very impressed so far! Girls, run to your nearest Smashbox counter and go sample this for yourself! You might hashtag ALL your selfies #nofilter from now on!

Kisses, over and out, Marelize
NEW Smashbox Photo Filter Creamy Powder Foundation
After our highly successful Smashbox campaign, Smashbox products are right at the top of every BB Beauty's #LustHave list. I was so thrilled to be able to try out the new Smashbox Photo Filter Creamy Powder Foundation, as this foundation truly has the X-factor. It contains transparent particles that refract light from your face in different directions, minimising imperfections and giving smooth, true-to-life coverage.

The packaging, as is to be expected from Smashbox products, is sleek and sophisticated yet practical. The box and its clasp are sturdy to prevent broken powder compact accidents in your handbag. The compact includes a mirror and a double-sided sponge, perfect for touch-ups on the go. One side of the sponge is for lighter coverage and the other side is for heavier coverage.

The product itself is luxurious, velvety and ultra-smooth. It glides onto your skin and has the best features of both a cream and a powder foundation. It makes your skin as dewy as a cream foundation, but has the oil-cancelling power of powder.

There's absolutely no way in which I can fault this product, except that the side of the sponge designed for heavier coverage can make your face look streaky if you don't take extra care to blend properly. All in all, Smashbox Photo Filter Creamy Powder Foundation is a flawless product completely worthy of its price tag.