My Bobbi Brown Makeup Lesson…
Hot
December 17, 2011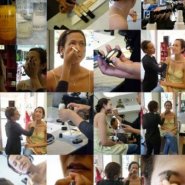 Everyone (or at least those into makeup) knows that Bobbi Brown is all about natural complexion. None of the brands I've tried come close to Bobbi Brown when it comes to complexion.
User reviews
My Bobbi Brown Makeup Lesson…
With Portia's help – and eyes I might add- I found the EXACT match for my skin.
Finding the right tone is not my forte and I was totally taken by not only the texture of the Bobbi brown foundation but the colour that instantly soaked in and perfected my uneven skin.

Portia guided me through all the basic steps of makeup application and I learned a few things – from how to open up & enhance the shape of my almond eyes with the Bobbi Brown Long-Wear Gel Liner to concealing my under eye circles with the Bobbi Brown creamy concealer kit. My favourite part had to be the skin preparation which I believe is the key to achieving great results from make-up. I absolutely fell in love with The Intensive serum supplement that literally evened out my skin, locking in moisture while allowing the foundation to blend much easier.


Was this review helpful to you?