Kryolan Supracolor foundation
Hot
June 25, 2014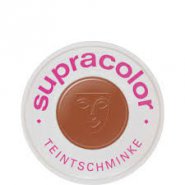 Product Info
Where to Buy
Kryolan stockists nationwide
A foundation for professional use but works well for everyday use too.
User reviews
Kryolan Supracolour
This is an excellent foundation, especially for a normal to dry skin. During most winter months I had to change my foundation as it left a powdery residue on my skin. With this one it glides on. Layering is excellent too- I prefer a more natural look, so I apply with a brush for daytime and do two layers/sponge application for more coverage. It lasts for what feels like forever. Easily lasts for 6-12m
Product Recommendation
Would you recommend this product to someone else?
Yes
Would you repurchase this product?
Yes
Full coverage n professional look
In terms of a professional perfect match you really can't get better than kryolan! It stands up to heat, humidity and bright lights! Professional make up artists favour this brand for functions! I bought mine after getting my face done for a function and even purchased the translucent powder for setting makeup! It provides full coverage and conceals flaws and provides natural looking glow! My only problem with it is it seems to transfer easily onto my white iphone and anything i touch after touching my face!
My new fave foundation..
Ive always been a fan of kryolan. especially their foundations because of their full coverage.but only ever used the dermacolor and ultra foundation ranges. I decided to try something different. .the Supracolor range, which is cheaper than the other 2 ive been using. so I expected it not to be as good. I purchased a 30ml for R210. the tub is huge. I use a flat top buffing brush to apply my foundation so very little product is used. the coverage is amazing! it makes u look like u have model skin. it covers perfectly and looks totally natural. people actually compliment me on my skin nowdays asking what ive been using because my skin looks different and so flawless. im definately sticking with this foundation.