Fluidsplash 3 in 1 Foundation
Hot
July 13, 2012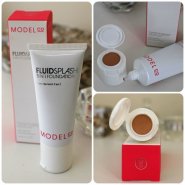 Fluidsplash 3 in 1 Foundation is a revolutionary oil-free liquid foundation that comes with a concealer & eye base conveniently hidden in the lid.
User reviews
What an awesome idea! Now instead of having to carry three products in your purse you just need one! It is perfect for those touch-ups on the run, before a hot date or business meeting. Fluidsplash feels super light on your skin, giving you a natural dewy finish. Fluidsplash is enriched with Vitamin E & Aloe Vera, making it is easy to blend. The eye base will give you longer wear from your eye shadow and the concealer will help to cover up blemishes, giving you an overall flawless finish.
Was this review helpful to you?