Elizabeth Arden, Flawless Finish, sponge-on cream (73 toast)
Hot
July 26, 2013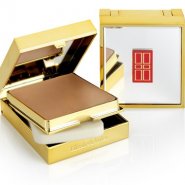 Product Info
Where to Buy
Edgars, Red square, Truworths, Dischem
Originally my opinion of Sponge-on / cream make up was that it would be this thick oilpastel-esk thing that sits on top of your skin like a mask, Elizabeth Arden sure did prove me wrong. I guess I have seen too many women apply it wrong or use an entirely wrong colour.
This product however is super easy to use, not at all oil-pastely, infact, application of this is so much quicker than a regular foundation… and without a doubt a FLAWLESS FINISH.

My regular foundation of choice is the Elizabeth Arden Flawless Finish Bare Perfection Liquid foundation, in 190 Nutmeg, so I was very excited to try this new product from EA. As one of the few houses that holds colours that suit my skintone, finding yet another EA product in my colour was thrilling.

Firstly the packaging is simple and stunning, the gold and mirror look holds a sense of richness, which I would be most proud to keep in my handbag.

Secondly, the texture of the Cream is so silky and smooth, when touching with hands, almost as if it was a treatment more than makeup. On the Face its light, as if I don't even have more than a moisturizer on.

Application:
My first touch was with my ring finger, to feel that silky smoothness mentioned. I used the sponge that comes in the compact to apply the cover to the right side of my face, and I used a foundation Brush for the left (as I am a brush girl)
With the sponge I got a very light even cover, very effective, however I am lots more comfortable with a brush, so tried that, and behold… full cover yet so natural I had to basically stick my face onto the mirror to see if I had missed a spot.

8 hours later:
cover is still great, still natural and radiant, I just have quite a shiney T-Panel, purely because I have combination to oily skin, and this product is aimed at combination to dry.

Cons:
there are only two things I can actually point out as a con, the first was the scent, on opening and during application, there is a very prominent fragrance, to me it's a little too floral, as someone prone to migraines, certain smells act as a trigger, and the scent alone is the reason I personally would not purchase the product. Despite all the good elements, I will not spend money on a face product that I can smell.

The other con was the bottom of the compact, it is made so that there is an airflow to the sponge, while I know all cream foundations do this, my concern is that bacteria can very easily get onto the sponge, and unless, like me, you have a habit of over washing/replacing sponges or brushes, using a bacteria filled sponge between the cream and your face is just not ideal.

Verdict:
I would definitely promote this product if you are combination to dry, and if you don't mind the scent. Good product, great cover, easy to apply, radiant looking skin. Do make sure you sniff a tester before purchase though.