Black Up Full Coverage Cream Foundation
Hot
July 04, 2013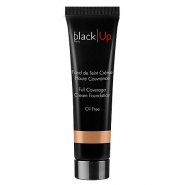 Black Up Full Coverage Cream Foundation is a fantastic foundation that will hide imperfections caused by acne scars or blemishes on your face. The creamy texture of the foundation does not cake on your face after hours of wearing it. Instead, it gives your skin a healthy glow that lasts for over 8 hours.
It is suitable for those with normal to dry skin and it is enriched with fine micronised pigments that give a lovely vibrant tone for your face.
The Black Up brand has products created especially for Africans and recognises that they come in a wide range of 'Browns''. This is why they have 15 different colours that range from beige, No 1 to a dark brown, No15.
Another fantastic element of this product is that it is oil free and fragrance free and so, suitable for those with sensitive skin.
Using Black Up Full Coverage Cream Foundation will result in flawless and smooth skin that looks free of blemishes, scars and spots.
User reviews
Real Life photoshop with Black Up Full Coverage Cream Foundation
As a person who has very dark brown skin, I had always been afraid of trying out foundations. This is mainly because it is almost impossible to find a colour that suits me and looks natural after I have tried it on. Black Up Full Coverage Cream Foundation was the answer I had been looking for with regards to the perfect foundation for my skin tone.

All Black Up products are made especially for those with brown skin. This, therefore, means, if you are African, you are most likely to find the right colour that also looks fantastic on you.

Choosing the right foundation colour is crucial and with the Black Up Full Coverage Cream Foundation you need to make sure that you try it directly onto a section of your face in good light. The colours range from No1 to No 15. You will need to rub it in and allow it to blend into your skin before making a judgement about whether it's the right colour for you.

I chose the No 14 foundation colour. It has a red under tone which immediately illuminated my skin when I wore it. When putting on the foundation, I had to dab little drops of it to my neck, chin, cheeks and forehead. I then blended it in with my fingers.

It took literally less than a minute to rub and blend into my face. My face immediately looked brighter and healthier. There wasn't the usually greyish or whitish ghost look that some foundations leave you with. All imperfections on my face were immediately gone. Also, the dark area below my eyes was also gone.

Because it's oil free, the cream foundation did not leave a greasy or shiny look. Instead, it looks more like a healthy glow. Obviously, because it is a cream foundation, it's more suitable for those with normal skin or dry skin. I have dry skin and the foundation does not suck the little moisture I have at all. My skin feels as smooth and supple as it looks.

When putting it onto your face, you can use your fingers or a good sponge applicator. If you use your fingers, be prepared to spend a minute or two washing your hands with soap.

I have very sensitive skin and this fragrance free foundation has been very good to my skin so far. I've not had any reactions, breakouts or rashes. I've been using the foundation for over a week and normally by now, I'd know if I was allergic to the foundation or not.

The coverage looks good throughout the day and I have not had any reason to touch up so far.

I'm loving this Black Up Full Coverage Cream Foundation and the nickname ''photoshop'' is proving to be true.

Was this review helpful to you?