NYX Eyeshadow pearl mania- Iced Mocha
Hot
November 17, 2011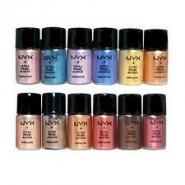 Thank you Clicks!
User reviews
NYX Ultra Pearl Mania
I love this pigment. It's a gorgeous bronze colour with lots of shine. It's obviously messy and you will experience some fallout. But it's applies smoothly and lasts all day.

The bottle is a bit small to get a brush in there but if you have travel containers you can always decant it. The colour is extremely pigmented so you don't need all that much. The quality is also great and I will definitely be buying a few more colours. The bottle looks small and holds 5ml of product but like I said you use so little it will last very long. Definitely worth it for R40.

I love NYX goodies and everything I've tried I've liked or loved. :)
Was this review helpful to you?
Superb colour payoff
The jar is really tiny and it is impossible to dip a brush into it. Even if you have a narrow enough brush, it is hard to control how much pigment you get on it. Since the colour of these is super intense it is better to be able to control the amount. Thanks to someone's advice online, I purchased a Clicks 7 day pill distributor for only R15. Each jar's content fits pefectly into each pill compartment so now I can collect 7 different pigments in one compact. Love the convenience! The powder is now easily accessible with a flip of a lid wihout any spillage.

The quality of these pigments is simply amazing. You need so little. The powder is very blendable and stretchable without losing its intensity. It also lasts and doesn't crease at all. I would still recommend to use an eye shadow base - it just makes it a lot easier to stick to your lid without too much fallout. Iced Mocha is a taupe colour with gorgeous shimmer. It is a lovely neutral shade for both day and night wear. It shows up pretty grey against my skin tone which I really don't mind since I already have too many brown shades. This shade is a lot more unique...

Overall the quality is really superb. I will definitely look out for more shades. Even though the amount is small it really lasts and is worth every penny.
Was this review helpful to you?
NYX Pearl Mania- Iced Mocha
I was uber excited when I heard the news about NYX coming to Clicks and I am more than impressed with it so far!
Was this review helpful to you?