Bourjois Little Round Pot Eyeshadows
Hot
January 26, 2016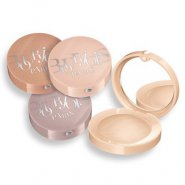 Product Info
Where to Buy
R125.95 at selected Clicks stores nationwide (Available from 1 February 2016)
Bourjois has reinvented their iconic little round pot eyeshadows. Now available in matte, pearl and shimmer finishes, these new pots reflect the colour and finish of the shadow inside. Use dry to blend on the lid with ease or wet to draw precise lines for an eyeliner effect. Available in 8 superb nude colours.
User reviews
Bourjois Little Round Pot Eyeshadows
I really love the Bourjois brand - they make such amazing, pigmented eye shadows.
I have this Round Pot Eyeshadow in the lightest shade and I do find it a little hard to make it visible on the lid. Im not sure if im just struggling to pick it up on the brush or if im just not doing it right but im hoping to try some of the darker shades to see the true effect of these shadows. So if you want a natural glitter look I would go for the lighter shades.

I think its a little costly considering its only one little pot but Bourjois does make quality products so you cant go wrong. I bought my pot at Clicks.

Product Recommendation
Would you recommend this product to someone else?
Yes
Would you repurchase this product?
Yes
Was this review helpful to you?