Luxe cashmere eyeshadow palette
Hot
August 03, 2014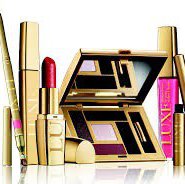 Product Info
Where to Buy
Justine Stockist for R235
A luxurious collection of matte n sparkly eyeshadow powders
User reviews
Cocoa couture
The layout of these powders in a gorgeous gold case with a layout and design that's a dead ringer for a collection that Estée Lauder has! These powders are infused with an exotic orchid extract and on eyelids blends seamlessly for a look feels silky soft on the lids and looks sensational!
The compact is about 2,5 centimetres in width and whilst it is attractive i favour slim compacts! Also glossy compacts for me are not so great because fingerprints etc make them so untidy! I prefer matte gold to glossy gold!
Onto the colours u get a matte soft pink, a beige matte, a matte chocolate brown, a sparkly chocolate and a sparkly bronze! All in all giving you a versatile nude that can take you from day to night! This is not a long wear formula and touch ups may be required! But this is a gorgeous case for handbag and is totally luxe and very wearable!
Was this review helpful to you?