June review Catrice Intensif'Eye Wet and Dry Shadow Charlie's Chocolate Factory
Hot
June 28, 2012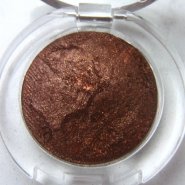 The handmade, highly-pigmented Baked Eye Shadows with a unique triple color marbling effect really have a lot to offer! Depending on whether you apply them wet or dry, the intensity of the Intensif'eye Wet & Dry Shadows ranges from subtle to bright. For every day, every mood, every style.
User reviews
If ever there was a versatile. Hard working eye shadow then this is it.

This is such a pretty warm shade. Its marbleised so has swirls for bronzes and browns running through it. It's pretty intense as a dry shadow with a really nice shimmer and great payoff. You don't need much to get a great depth and I think it will be awesome to use to create a night out smokey eye for pale girls like me. Anything darker tends to make me look more zombie than sexy. The name is true to the colour – it's very chocolate looking. It also makes my green eyes pop.

I'll be honest I haven't tried a look where I use this wet yet. I have swatched it wet and I think that it may be a little too much for me. I'm still working up the courage.

It also had great staying power. The colour didn't crease or budge – which I loved!

I like the packaging too. It's simple and hardy. Although like many shadows I do thing the hinge is the weak point so I'm keeping an eye out for cracking.

I really enjoy Catrice's products. You get really great quality and a good price. This product is no exception. I will definitely stock up on these.

Was this review helpful to you?