Eye Shadow: Almay Intense I-Color
Hot
September 11, 2013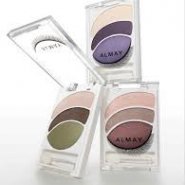 Product Info
Where to Buy
Click, Dis-Chem, Edgars, Foschini - ANY ALMAY STAND
Trio of eye shadow to enhance each eye colour. Incredible! I have never got so many compliments on my eyes and make up, like I have with this product.

I have two trios, one is for blues which I used on my sister in law who has AMAZING eyes, they were enhanced and all attention on her eyes. My eyes are a brown, and so I used the bold trio for browns, it is a white, dark purple and light purple.

This product blends beautifully, and really does the job with enhancing. I believe you can get a kit with this eyeshadow, and eye liner and mascara - which I would love to try altogether. I found mine lasts the long day, and I use it almost everyday. I haven't had to buy a new one for about the last 2 months, and still going strong.

I bought mine at Edgars but have seen them at Clicks and Dis-Chem, there is loads of options for each eye colour. It is worth a try and I would love to collect them all for my brown eyes!