Clarins Eye Shadow 22 Midnight Blue
Hot
March 20, 2012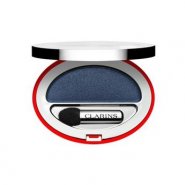 Product Info
Where to Buy
Stuttafords, onine beauty shops.
Totally new matte, satin or pearl textures to illuminate the eyes with incredibly pure colour. Creates perfectly even colour, flawlessly smooth, crease free eyelids and exceptional make-up hold.

Application

Apply the light shade evenly over the whole top lid with the Eyeshadow Brush or the fingertips. Dampen the brush to achieve a more intense make-up result.

Key Ingredients

- Anti-pollution: protects the delicate skin of the eyelids.
- Anti-free radical.

User reviews
My experience with this product can be summed up in one sentence " i have fallen inlove with this product", it brings the best out of me. My favourite eyeshadow ever and i love the colour.
Was this review helpful to you?