Clarins 4-Colour Eyeshadow Palette
Hot
March 02, 2017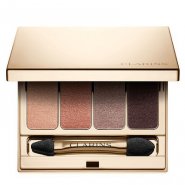 Product Info
Where to Buy
Available online at www.clarins.co.za and www.woolworths.co.za
Available from Woolworths stores and Clarins counters

Price: R535.00

Clarins 4-Colour Eyeshadow Palette offers colour-coordinated satin and matte eyeshadows. Slide on dry for a soft, natural eye and wet for an intense smoky effect. Ingredients include carnauba wax which comforts the eyelids.
Available in 3 shades
-Nude
-Rosewood
-Smokey 
User reviews
There are no user reviews for this listing.