Bourjois intense extrait de fard 03 eyeshadow
Hot
November 12, 2013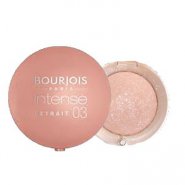 Product Info
Where to Buy
Clicks and Edgars
When i saw this product for the first time i thought it was soooo cute and convenient.The eyeshadow comes in a unique little pot with a mirror so that you could never go wrong with application when away from home. It consists of a little magnetic button too which assists you in closing it when done and to keep the eyeshadow in place by protecting it from breaking and scattering all over your cosmetic bag. This eyeshadow comes in different awesome shades that best suits your personality,however i have decided to go with the intense extrait 03 which i love love love!!!:D The shade of this eyeshadow is rose pink in colour filled with glitter and can be worn daytime with a romantic look on a date with your prince charming or a glamorous night out with the girls.The product is totally paraben free which makes it safe when worn on your skin and eyes.It can be mixed and matched with the other shades as well creating a sexy subtle smokey look.
User reviews
(Updated: January 23, 2018)
So bourjois
I feel weird if I don't have eyeshadow on, it's a must for me... This one is great.. Its just what I like.. Glides on nicely, has a nice shimmer and stays put.. Its perfectly pigmented and blends easily whether you're using a brush or your fingers.


Product Recommendation
Would you recommend this product to someone else?
Yes
Would you repurchase this product?
Yes
Bourjois intense extrait 03
I am so in love with this product. It has various colours. I love the feels of this make up when its on, it feels so light. Its easy to apply, it comes with a mirror and its easy to be held. Product price is very good for what you get.

I have various colours, you can wear them day and night, i have even dipped my makeup brush into a bit of water and then applied the eyeshadow, the effect is great for night time looks!
Bourjois intense Extrait 03
It's a must have in your beauty collection items list for this summer.Excellent product!!!:D