Bobbi Brown Long-Wear Cream Shadow
Hot
October 09, 2011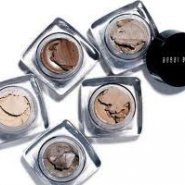 This is a cream eyeshadow with a velvety texture which glides on smoothly and lasts all day without creasing or smearing. This product is fragrance free and safe for contact lens wearers.

Available at Edgars.
User reviews
Best eye shadow in the world!
A definite yes for every eye-shadow enthusiast! Try it
Great formula It applies and blends
easily, wears and plays strong through a full day,and has an incredibly flattering finish that brightens up my eyes and makes them look lively no matter the shade I use.

Now I'm not really an eyeshadow person but this cream shadow shade in candle light(36) is amazing it is one of those essential shades you'll want to own for minimal or natural makeup looks as it offers slight color and is mainly just a shimmery sparkle of gold flecks not a full on color. This is an iridescent beige with a very fine pearl
sparkle. The shade is close to the color of flesh so it has the ability to meld on lids like a second skin creating a brighter, fresher look to your eyes (as if
you had 12 hours of sleep when in reality you only had 6). It is very soft and velvety and really lasts the whole day without a primer.
Bobbi Brown Long-Wear Cream Shadow
This cream eyeshadow applies very smoothly using either a brush or your finger. I tend to stick to a brush otherwise I end up with eyeshadow stuck under my fingernails which is not a good look for anyone!

This cream eyshadow sets very fast, so you have to learn to work quite quickly with it. It's not always easy to blend. I find for best results, when I want to use more than 1 colour, instead of using 2 cream eyeshadows together I use one cream eyshadow and one powder eyeshadow. This way I can get the look that I want much more easily.

I do find that by the end of the day the colour of my eyeshadow has faded a bit, but this is a very minor complaint. I never have to worry that it is creasing or somehow migrating to under my eyes. It is easily removed with any good eye make-up remover.

There are a number of shades available, although I find many of them a bit too shimmery for my liking. My favourites are Shore (a pale nude), Sand Dollar ( a silver greyish taupe) and Stone (a beige brown).