Bobbi Brown – Limited Edition – Crystal Eye Palette
Hot
November 08, 2010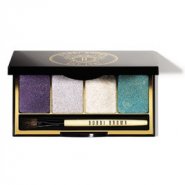 Price: R450 Four beautiful NEW shades of shimmering and metallic shadows let you go ethereal with a wash of Diamond Shimmer Wash or Star Sparkle Eye Shadow or bold with a pop of Amethyst or Peacock Metallic Eye Shadow. • Amethyst Metallic Eye Shadow (a rich, shimmery violet with blue tones) • Diamond Shimmer Wash Eye Shadow (a light, pearlescent gray with a hint of purple) • Star Sparkle Eye Shadow (a sheer, sparkly silver white that's a great top coat to add sparkle to any other shadow) • Peacock Metallic Eye Shadow (an aqua green teal mixed with gold)
User reviews
Metallic Madness
Thank goodness for friends in the retail business,At R450 a pop this could make you cry,but it's so stunning on your lids,and the metallic colours are unlike anything I have seen before.
Was this review helpful to you?
Bobbi Brown – Limited Edition – Crystal Eye Palette
I am having a lot of fun with this palette. The colours are great for summer, as they are bright and versatile colours. I am not the type to use colour on my eyes, however this palette works for me as I am able to introduce a splash on colour without over doing it.

I like the powder consistency of the eye shadows, its not very loose powder so it doesn't mess easily and stays on all day. The shimmery shadows are so so amazing, you can really see the shimmer on your eyes

It comes in a stunning palette with the gold limited edition Bobbi Brown Logo and you get a two-way brush with it for application.

Was this review helpful to you?