Bobbi Brown Bronze Tortoise Shell Palette
Hot
April 23, 2012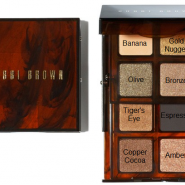 Product Info
Where to Buy
Selected Edgars and Stuttafords stores
Limited Edition Bronze Tortoise Shell Eye Palette

Shades: Banana Eye Shadow, NEW Gold Nugget Sparkle Eye Shadow, NEWAmber Shimmer Wash Eye Shadow, Copper Cocoa Shimmer Wash Eye Shadow,NEW Tiger Eye Metallic Eye Shadow, NEW Bronze Metallic Eye Shadow, NEWOlive Sparkle Eye Shadow, Espresso Eye Shadow.
User reviews
The compact has a brown tortoise shell like design to it that opens to reveal 2 levels of eye shadows and a great sized mirror. The construction of the overall compact is sturdy and one does not have to worry about the little pull out tray falling out of the palette (it stands up well to every day use without bending or buckling).

The palette is made up of 8 eye shadows in various shades of browns and bronze colours that are incredibly versatile and perfect for creating a lot of different day and evening looks. The top half of the palette has lighter day time colours made up of Banana; Gold Nugget; Olive and Bronze. The bottom pull out tray houses the darker shades that have some shimmer to them for a more dramatic look. These colours are called Tiger's Eye; Espresso; Copper Cocoa and Amber. My favourite of these is the Gold nugget and Amber colours. These are beautiful shimmery bronze and gold colours that highlight the corner of your eyes and tops of your brown bones perfectly.

The pigment of all shadows is such that one can easily control the intensity of the colour by layering the eye shadow. Not much blending is needed to create a beautiful even look. Except for the Banana and Espresso colours, the palette is made up of shimmer eye shadows and all the colours work beautifully together.

The good:
Long lasting and Great quality.
Versatile palette great for day and evening looks.
The bad:
If I ignore the steep price tag, I honestly can't single out anything bad about this product.

Retails for around R650.
Was this review helpful to you?