Bobbi Brown 2010 Holiday Edition – Day to Night Cool Eye Palette
Hot
January 13, 2011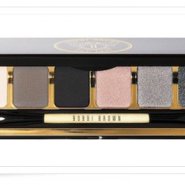 The Day to Night Cool Eye Palette contains the colours, "Ivory" – a matte crème shade, "Flint" – a matte cool tone brown colour, "Charcoal" – a matte black shade, "Petal" – a shimmering light pink shade, "Rockstar" – a metallic mid-tone silver shade, "Gunmetal" – a shimmering dark gunmetal shade. These 6 colours come in a beautiful black case with the limited edition Bobbi Brown emblem on top. The packaging is beautiful and feels amazing in your hands and a two ended brush comes with the palette too. The only negative of the packaging is that the black case tends to attract fingerprints. The quality of the brushes are really good and I use them with my regularly brushes. At the one end of the brush is a stiff dome brush similar to the MAC 217, and the other end is a synthetic eyeliner brush.


User reviews
Bobbi Brown 2010 Holiday Edition – Day to Night Cool Eye Palette
I love this eye shadow palette because it contains the perfect shades for both night and day. This makes it very convenient for when you travelling to know that you can just grab this one palette and you have all the eyeshadows you need. The black matte shadow "Charcoal" can be used wet or dry with the synthetic eyeliner brush provided, to create the perfect eyeliner look too. So you don't even need to bring your black eye pencil when you have this palette with you, which is a bonus!
Was this review helpful to you?