Avon True Colour Eyeshadow Quad - Glow Teal
Hot
September 13, 2013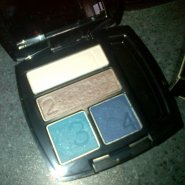 Four pan eyeshadow palette in Glow teal.
User reviews
Avon True Colour Eyeshadow Quad
Thank you BB for an opportunity to review these products... I am no stranger to Avon products I have used them in the past. At first when I looked at the shades, I was no way are those going to ever look good on me BUT to my surprise it was a muted palate & did not end up overwhelming my eyes! The guide & numbering on the actual product is marvelous! The application is easy & hardly a mess. It lasted me most of the working day... Wish it would have lasted a bit longer...
Was this review helpful to you?
Avon True Colour Eyeshadow Quad - Glow Teal
I am a 'Plain Jane' when it comes to make-up and I am not adventurous when it comes to trying new colours. I tend to stick to browns/nudes/taupes, so I got a bit of a fright when I opened this palette. Shades 3 and 4 are stunning, but not something that I would wear. But, and this is a big BUT, I would not hesitate to buy this palette for myself as shades 1 and 2 are out-of-this-world beautiful. Shade 2 is a dark chocolate brown with a beautiful shimmer. BB must have read my mind as I was searching for this type of colour/shadow about 2 days before my package arrived. I love it. The colour itself is stunning, it is very well pigmented, it applies smoothly and looks gorgeous on me, even if I do say so myself :) I would buy this palette just for this shade. I love shade 1 as well. It's a shimmery highlighter that contains tiny specs that reflect the colours of shades 3 and 4. It is SO pretty. Just using shades 1 and 2, I can create a stunning smokey eye that's perfect for a night out.

I general, this palette is great. I love the sleek, black packaging. The palette is very light so it's perfect to pop into your bag. The opening mechanism works like a charm and seems to be one that will last. The palette also has a built-in mirror. The applicator is not one that I will use, but it is handy to have. The shadows are pigmented, apply smoothly, they last and are true to the shades in the palette.

I am very impressed with Avon True Colour Quads that I have tried, and I would love to try more. Highly recommended. Two thumbs up Avon.
Was this review helpful to you?