Rimmel Glam Eyes Day 2 Night Mascara
Hot
April 23, 2012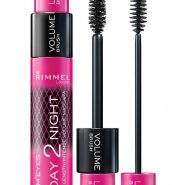 Product Info
Where to Buy
Supermarkets, Department Stores and Pharmacies
Rimmel introduces Glam'Eyes Day-2-Night, their first mascara that creates two dramatically different lash looks with just one brush. The secret is the magic double cap! During the day, choose the Length Cap for ultra-long, gorgeously defined lashes – perfect for those flirtatious encounters by the photocopier. And for night time, choose the Volume Cap, and plump your lashes to up to 15 times their normal thickness, leaving them voluptuously lush-looking and ready to party.

Available in Jet Black and Brown Black.
User reviews
rimmel 2 in 1
As much as this mascara dates way way back lol i only got to know of it last year and i keep going back for more whenever i run out of it,it has great packaging which leaves one wondering if the mascara has 2 brushes where as it has 1,lol it really lengthens my eye lashes and gives me volume as well without any clumps or any mess.

I simply adore this product!!
Product Recommendation
Would you recommend this product to someone else?
Yes
Would you repurchase this product?
Yes
I really love this mascara! It gives me beautifully dark lashes with a lengthened look to them.

I tend to use the lengthening brush as the volume one just makes my lashes feel too thick and a bit clumped - luckily it doesn't look that way, but I don't like a heavy feel on my lashes.
I am semi-obsessed with mascara. It is the one thing I cannot leave the house without wearing. As part of the hamper I won through Beauty Bulletin I received this mascara and have been testing it out for about a week now.

I was very pleasantly surprised by the clever design of the wands that come in the mascara. The first wand is used lengthen lashes and it does that beautifully by extending each lash from the root up. The lashes are also beautifully separated and defined. The second one is actually made up of 2 wands that fit together to form one wand - the way the two caps are designed means that the first wand fits within the seconds wand. In so doing a very dense wand is created that catches more of the product in the tube and that is what creates the look of volume on your lashes. Again with this look, the product does what it promises. My eye lashes look incredibly thick while at the same time they have a defined look and don't look like one big mass of lashes stuck together.

Both looks are great although I do prefer the "night" look of dense dark eye lashes. Another thing I love about the product is that it doesn't dry hard on your lashes at all. Even with a lot of product on my lashes feel soft.

Many might argue that this mascara is an exact copy of the MAC Haute & Naughty - but the Rimmel product is a lot more affordable and accessible to most people. It doesn't put me off the Rimmel mascara and I definitely will recommend this to my friends.

RSP: R129