L'Oreal Superliner Black Velvet
Hot
August 30, 2016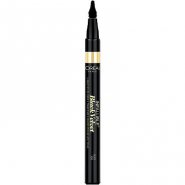 Product Info
Where to Buy
Launches in October 2016
The L'Oreal Superliner Black Velvet is the first of it's kind and deliveries a bold eye in one stroke. The velvet tip is soft and offers easy application. 
User reviews
L'Oreal Superliner Black Velvet
I'm such a lucky lady to get a sneak peek at this product! I've always had a hard time applying eye pencil so I'm loving this product because of its velvet tip. If any of you ladies have problems applying eye-pencil make a note to try this out in October and share your experience with us on BB.
Product Recommendation
Would you recommend this product to someone else?
Yes
Would you repurchase this product?
Yes
Was this review helpful to you?