Essence Superfine Eyeliner Pen
Hot
December 03, 2013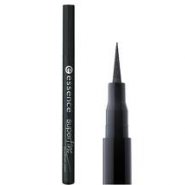 Product Info
Where to Buy
clicks and dis-chem nation wide
I loved this at first, the tip is really fine and it was the darkest of all the Essence felt tip pens. I really wanted to experiment using a pen to see what it was like in comparison to gel and liquid brushes. When applied it wasn't as dark as expected and I had to build it up to two or three layers to get a line that stood out.

It applied a consistent amount of product and I really loved the tip, but it seems to dry out towards the end of each use. Yesterday I had successfully lined my top lids and one bottom lid and it went dry at the tip. I'm not talking about a tick cat-eye, but something like the photo about from the Get Big Lashes review.

Is it worth it? Unfortunately not. Even though this is really cheap and under R30, it's not worth it. I'd rather spend a little extra and buy the Bourjois Liner Pinceau that lasts me a year!