Chopsticks Eyeliner
Hot
August 13, 2013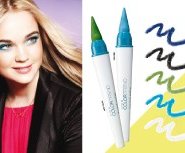 Product Info
Where to Buy
Avon representative
Exotic Violet
Black Cat Eyes
Huntress Green
Skyline Blue
Smouldering Silver
Get perfectly defined eyes with these sleek sticks designed to give you ultimate control
User reviews
Avon's Chopstick Eyeliner
I really like the new chopstick eyeliners.

I found the application to be easy and controlled, they are affordable which is great.

However I found the color not too intense you have to go over and over just to have the intense color that well I wanted.


Chopsticks eyeliner
They are really affordable and come in different colours. It is easy to use and glides on smoothly however I found this eyeliner to be not so effective for me anyway. It smudged not long after I applied it.
Chopsticks Eyeliner
cheap and amazing you get 5 colors in this line and works wonders.use it as a eyeliner or eyeshadow.
perfect for the Smokey eye effect