Inglot Freedom System Cream Concealer
Hot
March 10, 2015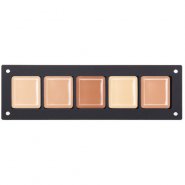 Product Info
Where to Buy:
The products can be bought from selected Edgars stores or Inglot cosmetic counters.
Inglot's range of Freedom System Palette concealers. When you purchase a concealer palette (various sizes are available) you can mix and match various shades to meet the needs of your skin's flaws.
There are more than 20 water resistant shade to chose from - all of which are infused with Vitamins A and E. 
User reviews
Freedom System Concealer
Absolutely inLOVE with this brand! The concealer Is creamy and easily blendable with GREAT coverage.

There are an array of colours for every skintone with the added bonus of corrective colours. The best part is that you can completely customize your palette to suit your needs.

Prices are very reasonable for the amazing quality. Definate 5 stars!!
Was this review helpful to you?
Excellent coverage
For the longest time I have been a Mac girl.

A part of me still is, I suppose. But after I stopped at the Inglot counters at Gateway Theatre of Shopping a year ago I became hooked on the extensive beauty brand.

Overall I have been impressed by the Ingot products. And the Inglot Freedom System Cream Concealer is no exception.

The actual concealer product is amazing. It is soft and creamy, and literally melts onto your skin. No need for fancy applicators – simply pat it onto the desired area with your fingers.
It is well pigmented, which means that it provides excellent coverage, and with approximately 20 shades to choose from there is no doubt in my mind that you will find the right shade for ever skin tone and coverage issue – be it dark circles, acne scars or even rosacea (redness around the nose, cheeks and chin).

I love that the product doesn't dry out, which means you won't end up resembling a host of contagious disease a few hours after application. The only SLIGHT downside is that you will have to apply power over the product to set it in. As a minimalist girl I don't enjoy wearing bucket loads of make-up, so this was a slight downside for me - but not a deal breaker.

In my experience the concealer is also pretty durable. I have worn it to the beach, where I played in the waves and soaked up the rays, and it did not streak or fade.

Another exciting aspect involving the concealer is The Freedom System Palette – which enables consumers to mix and match their own shades into a pallet.

The pallet sizes range from 2, 4 or 5, so you can build your own pallet using shades pertinent to your skin tone and coverage needs. No more feeling guilty about wasting that one shade that never gets used.

I think the product is slightly expensive – especially for the individuals who are budgeting every penny, but it is certainly worth every cent if you can afford to splurge a bit.


Was this review helpful to you?