Bobbi Brown Face Touch-Up Palette: Palette Retouches Express
Hot
May 22, 2015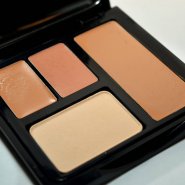 Product Info
Where to Buy
R520 Bobbi Brown counters Edgars stores
A palm sized palette correcting, concealing and finishing your skin to ensure it looks its best! Available in 15 skin tones and correct shade combinations designed to match the skin foundation stick shade. Palette includes a corrector, a creamy concealer, a skin foundation stick and sheer finish pressed powder.
User reviews
Bobbi Brown Touch up palette
I was very lucky to have BB spoil me with this Fantastic Bobby Brown palette. Its a stunning touch up palette that has concealer, base and a powder! there is nothing on ur face this baby cant hide. would be perfect for traveling . The peachy colored concealer is great for covering dark circles. Touch up to a flawless skin with this one :) what more could a girl want! Blends to perfection and has long lasting results.
Product Recommendation
Would you recommend this product to someone else?
Yes
Would you repurchase this product?
Yes
Was this review helpful to you?
Bobbi Brown Face Touch-Up Palette: Palette Retouches Express
This palette contains it all and all packaged in a palette no bigger than my palm. I love this travel sized piece of make up brilliance- containing all my necessary go-to's without the schlepp of carrying around 4 different products. The inbuilt mirror is also a clever addition for those on the go moments! Another clever product from one of my favourite brands!
Was this review helpful to you?