Estee Lauder Tender Blush in 211 Nude Rose
Hot
May 27, 2011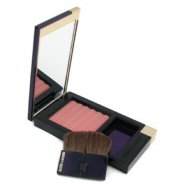 The Estee Lauder Tender Blush is beautiful range of matte blushes. It comes in a beautifully packaged Estee Lauder box with a mirror inside, and it includes a small blush brush that you normally get when you purchase blushes. I think this product range has now been discontinued and Estee Lauder has launched the Signature Silky Powder Blush range instead. The colour I got this blush in is in 211 Nude Rose, which is a matte, peachy pink blush. They have Nude Rose in their Signature Silky Powder Blush range as well.
User reviews
Estee Lauder Tender Blush in 211 Nude Rose
I love this blush colour. It is my go-to blush especially on nights out. It goes really well with my skin tone whether I'm wearing minimal makeup or dramatic, evening-out makeup. It gives your skin that subtle peachy, pink colour that blends very well into your skin. For me this blush is more peachy than pink, which makes it very wearable and goes with almost any colour eye makeup. I find that when I do some very dramatic smokey eye makeup, pink blush doesn't always compliment it well because it puts too much emphasis on the cheeks when you want your eyes to stand out. But the peach tones in this blush tones the pink down a lot, and your cheeks still have a beautiful colour without competing for attention with your eye makeup.
Was this review helpful to you?