CLARINS cream Blush
Hot
June 12, 2014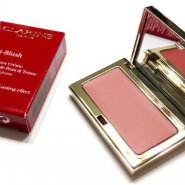 Product Info
Where to Buy
Available at Clarins counters in selected EDgars, Red Square, Stuttafords and Truworths stores
Retails from R300
A creamy blush for use on cheeks and lips that feels soft and natural on the skin. The Clarins Multi-Blush Cream blush protects the skin from dehydration thanks to ingredients such as rose, mimosa, jojoba and sunflower floral waxes.
User reviews
blush blush :p
Ladies what better way to celebrate Spring than with pink cheeks that look naturally flushed ? This blush is ideal to give the appearance of naturally pink cheeks! It is a cream blush that turns to powder on application. It melts into skin and its soft texture makes it easy to blend and scult for a natural and light finish! Now this is multi purpose and can be used on the lips as well for a matte powdered finish . Contains Floral waxes extracted from rose, mimosa, jojoba and sunflower that pamper the skin and protect against dehydration and with its exclusive light
Optimizing complex , bring lustre to skin. Its Available in 4 awesome shades although the price is not at all awesome but no regrets as I'm absolutely wowed by this :p ..

Clarins Blush Prodige
I have not used this exact colour but a Clarins blusher is always a winning product. Smooth and long lasting for a gorgeous pinch of colour.
Clarins Cream Blush
This cream blush transforms into a powder on contact with the skin which gives a beautiful rosy cheeks effect.

I love this colour as it is so natural and it gives my skin a glow too. The lasting result of this blush is also fantastic. It lasts for up to 8 hours on my skin with no touch-ups.

It also feels really light on my skin with no caking or dryness.

It comes in a gorgeous, small gold compact which looks really classy and elegant. It goes for R300 which is rather pricey but it lasts a long time!