Chanel Joues Contraste
Hot
July 18, 2013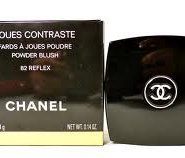 Product Info
Where to Buy:
R610 Department stores such as Edgars and Stuttafords and Chanel counters nationwide
The iconic and soft powder texture blush by Chanel. The essential step to enhance the complexion, structure the face or create a healthy glow effect. A travel-friendly case to facilitate easy touch-ups throughout the day!
User reviews
Chanel Joues Contraste 82 Reflex
I simply love this blush- It looks corally with a faint shimmer of gold. I think it would work best on fair toned but warm complexions. This blush becomes one with your skin, other than other blushers that just sit ontop of your skin. Honestly, If you're planning on buying it, Go Ahead !! I am so inlove with mine.
Was this review helpful to you?