Bobbi Brown Blush Brush
Hot
October 08, 2010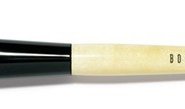 Price: R550 Use: To apply blush This popular Bobbi Brown Blush Brush was awarded Best Blush Brush by "Allure" 'Best of Beauty' (Oct. 2009). They have now updated the brush with a rounder brush head softer bristles. This new shape is to enable the user to apply the perfect amount of blush onto the cheeks.
User reviews
this brush is a bit costly, but works so well.

it allows you to apply the right amount of blush and in the correct position.

plus made out of pony hair (dont worry no ponys were killed) its soft and feels lovely on cheecks
Was this review helpful to you?
Bobbi Brown Blush Brush
I really like this brush, no wonder it won an award!! It doesn't pick up too much blush, thus giving me an even and consistent coverage on my cheeks.
Was this review helpful to you?