Bobbi Brown Art Stick
Hot
April 07, 2015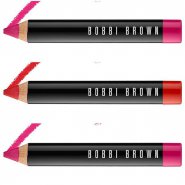 Product Info
Where to Buy
R300 Bobbi Brown counters
The Bobbi Brown Art Stick Crayon's pack customizable colour in a punch. This chunky pencil is a lipstick, liner and cheek stain all in one. It provides comfortable wear with a one-of-a-kind creamy matte finish.
There are 8 statement-making shades in this collection and each are formulated with Shea Butter and emollients. These come enclosed with a sharpener so that you can always achieve precision with every application.
User reviews
Bobbi Brown Art Stick in Crayon Rouge a Levres
Another clever product from Bobbi Brown - pay for one, get two - a lipstick and a blush.
This product is completely customisable- I am able to choose as much or as little coverage as I would like - a feature that allows me to use one product for multiple looks and justifies the expense of course!
The matte finish makes this truly long lasting - a lipstick that won't smudge or fade immediately after application. The chunky nature of the crayon helps with application and offers me more stability when applying my lipstick and more coverage when applying blush.
Sexy Lips Guaranteed!
I must admit that when I first saw this pencil, it made me feel like a kid again! This crayon is no childs play. Its serious makeup genius the Bobbi Brown way! I was a little put off by the price rage but quality has a price. I have the Hot Orange and let me say this, this is a "look at me colour". The creamy and highly pigmented lip colour goes on beautifully and lasts! Its really eye-popping colour and lasts a long time. Just be careful not to lose the sharpener. Otherwise, this lip treat is a winner!
(Updated: April 07, 2015)
Bobbi Brown Art Stick Crayon in Hot Pink
If you love lipstick crayons, you'll love the Bobbi Brown Art Stick. The texture feels ultra creamy and super luxurious on my lips.

I had the pleasure of being treated to a mini-makeover with these lip crayons and I thoroughly loved the look and feel of it. The Bobbi Brown MUA who attended to me used it as a lip liner, lipstick AND as a creamy blush.

I love the Hot Pink shade as it is the ultimate statement-making lip crayon. There are 8 amazing colours to choose from so you'll definitely find one that appeals to you.

Although they are quite pricey, I doubt you'll be disappointed with the quality and effectiveness of the product.