Clere Radiance BB Cream
Hot
May 11, 2016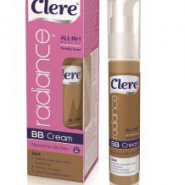 Product Info
Where to Buy
R45.99 available at selected department stores nationwide
Clere Radiance BB Cream covers dark marks and blemishes, leaving skin looking naturally radiant and even-toned. The product is available in two shades (Light and Dark).
User reviews
Clere Radiance All-in-1 BB Cream
This All-in-1 BB Cream provides the perfect coverage when I am trying to achieve that "No Make-up" look. It blends exceptionally well with my skin, looking natural on my face while evening out my complexion.

I get medium coverage and a matte finish while my skin stays moisturised throughout the day. The Super Fruit Serum and micro-sponges help with oil control.

You can use your fingers, a brush or even a sponge to apply the product. Either way, you will not be left with a mess.

I love that it contains SPF 30 so you stay protected.
Product Recommendation
Would you recommend this product to someone else?
Yes
Would you repurchase this product?
Yes
Was this review helpful to you?
Clere Radiance BB Cream
Brand: Clere Radiance
Price: R49.99
Size: 30 ml
Texture: Smooth
Availability: Available from bigger shopping outlets (checkers, shoprite).


Loves:

Gives a matte finish

Helps to control oily skin

Smells lovely

Lasts long on skin, so no need to reapply

Covers dark marks and pigmentation

Helps with oily skin

Skin is left looking radiant

Affordable, retails at +/- R49.99 – R59.99

Compact bottle, easy to take all-over



Hates:

Only comes in two shades, light and dark which leaves some ladies out of the loop when it comes to perfectly matching their skin to either one of these two colours.

Has a lemony smell, so some ladies might not like it

If bottle lays long, BB cream starts to crack.
How to use Clere BB Cream:
After you have cleansed your skin (I use Clere facial wash) pat skin dry and apply toner as per usual. Then apply BB Cream (I use about 3 blobs – with a facial sponge) and smooth it onto my face area and neck area in a circular motion.


My Experience:
The product comes in two shades light and dark. Since this was a sponsored product, I had only received the light shade as its more suitable to my skin tone. I applied the product once, and it covered most but not all of my pigmentation which is a huge skin concern for me personally. After two applications, my skin imperfections were something of the past as it covered the pigmentation completely but left my skin feeling light and not too heavy also non-oily. For a BB cream of this price (R49.99 and the size of 30ml), I really feel its value for money. For smooth application I use a sponge to apply all of my BB Creams`. The Clere BB Cream smells really lovely, as with all of Clere products and still has that familiar lemony scent to it -such freshness! So if you not into lemons you might not like this product as much.


Recommendation:

For me, at the price this product retails for, I would definitely recommend trying it, it's worth every cent. Plus if it doesn't work for you, you could always just pass it off to someone, as it won't break your budget.
Product Recommendation
Would you recommend this product to someone else?
Yes
Would you repurchase this product?
Yes
Was this review helpful to you?