Essence make-up sponge
Hot
January 30, 2013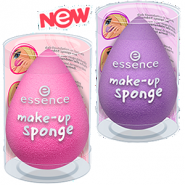 Product Info
Where to Buy
Clicks and DisChem
the new face tool with a fun factor! this make-up sponge is ideal for the easy application of foundation, concealer, blush or powder. a cool utensil that's unique and super practical at the same time: the rounded edge is perfect for foundation and blush, while the slim, pointed side is ideal for hard-to-reach areas. it can be used dry or moist, is latex-free and can be washed. available in a choice of pink or purple.

User reviews
SUPERB
I recently bought this cause everyone was raving about it...and OMG they were right too! It gives you a totally different result and look to your face than a brush. I love how easy it is to use and its so easy to keep clean and it was so cheap I think I payed around R30 at clicks
Was this review helpful to you?
The Sponge has the same shape as the famous Beauty Blender, however it does require more effort, I've tried the Blender Baby and the Beauty Blender and all three give me different results, this sponge requires a technique of bending your hand and rolling the sponge onto your face. It is worth a try
Was this review helpful to you?