Luv that Sun - Dischem brand
Luv that Sun - Dischem brand
Hot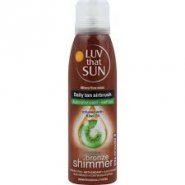 User reviews
I am very pale and don't buy self tanners often. I bought this at dischem since it is so affordable and therefore I had nothing to lose so I gave it a go. The colour pay off is excellent! I applief it twice for a darker effect and it looked really good. The dealbreaker for me was that it transfers really badly. It transfers on your clothes, bedding etc. Because of this reason I will not repurchase. I'd rather stay with body lotion with a subtle, gradual selftan.
Product Recommendation
Would you recommend this product to someone else?
No
Would you repurchase this product?
No
This is the best self-tan I've used. It's affordable, it smells great, unlike other self-tans. It doesn't streak but you have to scrub before and also apply lotion on your knees and feet before in order to prevent blotchiness in those areas. It's great for pale skin which is often my problem because most self-tans are too dark of don't show at all. The only thing is it doesn't last very long and fades a little after each shower. But not so much that is looks bad. The medium colour doesn't work at all but this one works perfectly for me :)