L'Oreal excellence creme 6.7 chocolate brown
L'Oreal excellence creme 6.7 chocolate brown
Hot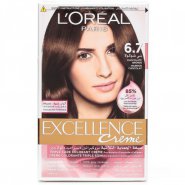 The L'Oreal Excellence Creme 6.7 Chocolate Brown Hair Colour kit comes with a protective serum to protect hair, the colouring crème to strengthen, the developer and the balm. It provides rich long lasting colour to cover up greys, provides shine and stronger hair. 
User reviews
The couler is amazing it gives a nice shine to my hair and makes my bair look pretty...the smell is not to strong and it is afodable
L'Oreal excellence creme 6.7 chocolate brown
(Updated: August 18, 2016)
I've never dyed my hair before and I'm considering using this one, based on research it colours, protects and strengthens hair with an 85% less breakage from brushing. Have any of you used this product? If you have let us know.
Product Recommendation
Would you recommend this product to someone else?
Yes
Would you repurchase this product?
Yes