The #StepIntoTheSun Project
We recruited a trial team to put Island Tribe to the test. They wanted to know if making Island Tribe part of their daily routine really is the key to rediscovering the joy of unexpected sunny occasions and enjoying summer stress-free. 
The Trial Team
These REALfluencers were homebodies, parents, and outdoor adventurers that haven't been getting out into the sun 'cos of COVID, financial, or sun-sensitivity stress. People who wanted to change that in the summer of 2021/2022. 
Week One's Story: 
Our Island Tribers introduced their audiences to Island Tribe and hyped them up to enter the Island Tribe competition for a chance to WIN daily prizes worth R1000. These prizes were sunshine experiences in the winners' cities – for example, lunch at a wine estate in Cape Town, a mountain bike ride in Magaliesburg, fly fishing in Mpumalanga, surfing in Jeffreys Bay, and much more!
They also shared why they opted into the project and how they were hoping they would be able to #StepIntoTheSun with the help of Island Tribe.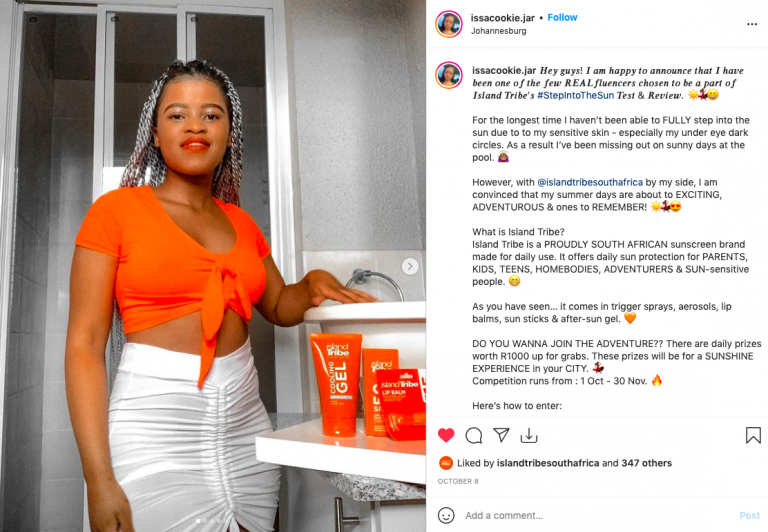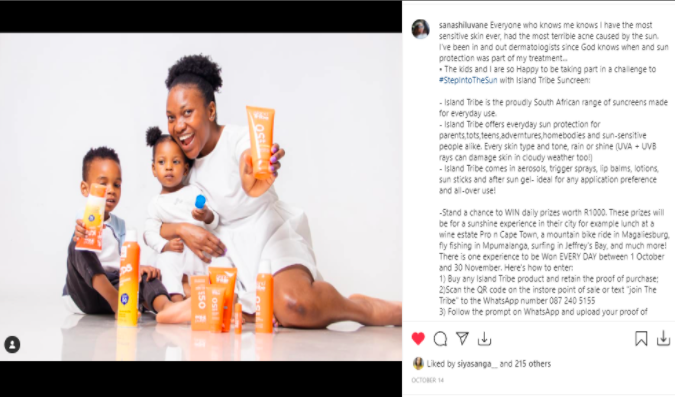 Week Two's Story: 
In this post, our Island Tribers were challenged to show their audiences how they would #StepIntoTheSun this coming summer. They created fun, fashionable, and super trendy videos, Reels, or IGTV episodes that revealed the looks and 'fits they were going to rock this summer with Island Tribe. They also reminded their followers to enter the Island Tribe competition for a chance to WIN daily prizes worth R1000.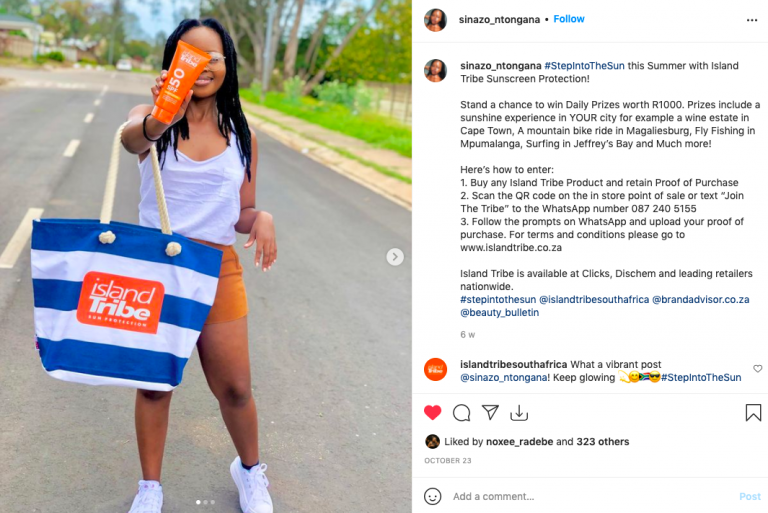 Week Three's Story: 
Post 3 was all about hyping up the Island Tribe competition. Step into the sun and WIN? YES, PLEASE! Here, our Island Tribers got their followers excited to step into the sun with Island Tribe by profiling their Island Tribe products and encouraging their followers to go in-store and get theirs so they could enter the Island Tribe competition.
Week Four's Story:
Post 4 was finally time to #stepIntoTheSun with Island Tribe and our Island Tribers definitely delivered! The Team showed their followers exactly what their sunshine-y new normal looks like with Island Tribe. They gave their followers a peek into how they stay protected with Island Tribe so they can #StepIntoTheSun on unexpected occasions with confidence. They shared their daily Island Tribe routines and showcased their unexpected occasions: having lunch on the sun deck, sneaky walk between Zoom calls, lunch break stroll by the prom, and kids having a playdate outdoors – but to name a few!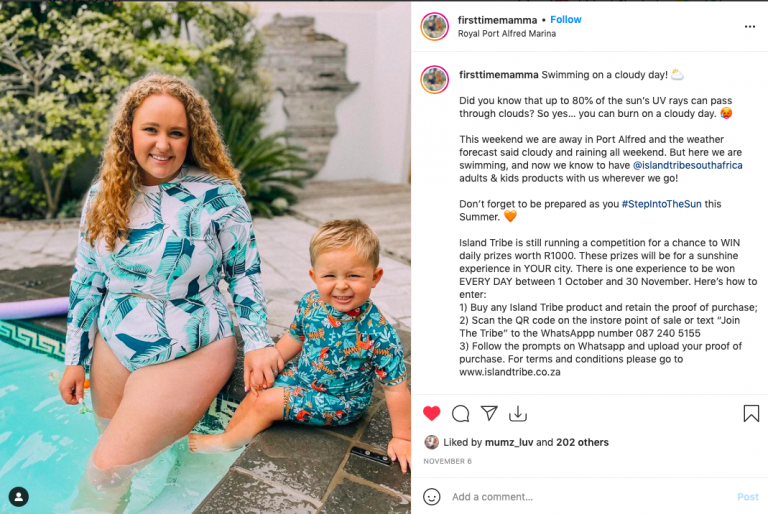 About Island Tribe
Family beach days, top-down road trips, mountain explorations with bae, unexpected get-togethers on the verandah, sudden sunshine on your office desk, and cloudy-bright lunch break walks… Sunny occasions, planned and unexpected, are so close you can almost taste them!
BUT… my skin 😩
If you just had that thought, you're not alone! Island Tribe knows the feels. They're the proudly South African range of everyday sunscreens made for parents, tots, teens, adventurers, homebodies, and sun-sensitive people alike. With Island Tribe, you never have to miss an unexpected adventure 'cos of ill-preparation or sun sensitivity again! #StepIntoTheSun