Sally Hansen Just Feet Spa Sugar Scrub
Hot
February 25, 2012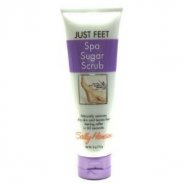 Product Info
Where to Buy:
Dischem, Clicks and some Pick 'n Pays
Product Features:
- Exfoliate & Glow!...Naturally removes dry skin and leaves feet feeling softer in 60 seconds.
- Treat your feet to a luxurious, moisture-rich blend of exfoliating sugar crystals, Vitamins A, C, E, Pro-Vitamin B5, French Lavender, Olive and Tee Tree Oils
- Instantly exfoliates for sandal-soft feet all year round
- Quick results for baby-soft, revitalized skin.
User reviews
This is a beautiful product to work with. The reason I am saying this is because the foot scrub is a deep purple colour that is just so great to look at and use. The consistency is that of a very thick sugar paste that works very well at exfoliating and moisturising your feet. I find this works best on dry feet because the sugar granules dissolve quite quickly in water. The moisturing capabilities of the scrub are so good that it leaves your feet feeling moisturised enough to almost consider not putting foot cream on afterwards. The scent is also very pleasant, it's a subtle lavender smell that is not at all overwhelming and doesn't linger for too long on your feet. A great product from a great brand.
Was this review helpful to you?