Milk Solutions
Hot
October 21, 2013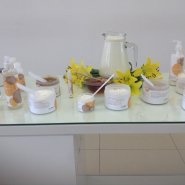 Product Info
Where to Buy:
You can have a look at any of the products on www.milksolutions.co.za and make your order on
This email address is being protected from spambots. You need JavaScript enabled to view it.
or give them a call on 011 7840376 and speak to Lindi
Milk Solutions is a range of cost effective manicure and pedicure products that are used by many salons around Jhb, Dbn and Cpt. The great thing is that they are user friendly so you are able to buy the products and use them at home with no hustle. They have 3 ranges, Milk and Honey, the Fruit Range and the Natural Range that is Paraben Free.
User reviews
Amazing cost effective Manicure and Pedicure products
These products are AMAZING you surely won't be disappointed. If you have bad feet their Heel Peel is exactly what you need!!
Was this review helpful to you?