Justine's Pedi Perfect Micro-Smooth Foot Dermabrasion
Hot
July 09, 2012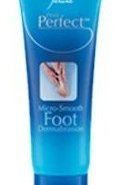 Product Info
Where to Buy:
From a Justine Representative
The Pedi Perfect way to get rid of those Dead Skin Cells
User reviews
At first glance I was a bit of a skeptic, but I found that this product was mild and gentle, yet super effective. This product has Microgranules which get rid of all those dead skins cells that eventually take a toll on your skin. I noticed my skin feeling much softer and much smoother. This is also not badly priced. The only downfall to this is that the fragrance of the product really does not smell very good. It actually has a medicinal scent to it which I do not like.
Was this review helpful to you?