Hey Gorgeous Peppermint Foot Scrub
Hot
May 09, 2013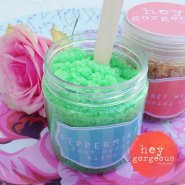 Product Info
Where to Buy:
Follow @HeyGorgeousSa and order with
This email address is being protected from spambots. You need JavaScript enabled to view it.
Only R90 for 250 g
I am very sceptical when it comes to feet products. Mostly because I don't really believe that they work all that well. Promises of "happier" feet and softer feet have always got me buying hundreds AND thousands of rands' worth of products that ended up drying out my feet more than when it started out.
Seeing as I had the sample of the peppermint foot scrub (a generous amount) I thought I would give it a shot.
I'm happy I did. "Why?" you ask... not only are my feet minty fresh (the fresh my breath wouldn't even be after an airwaves) but they are stofter and they DON'T HURT ANYMORE! Granted... I used the entire sample tub over a couple of scrubs (about 4 - 5 scrubs) but it really works! I love it so much... guess what my diabetic mommie is getting for mothers' day and guess what I got myself as a "from me to me" gift... yup, you guessed it. It is suitable for everybody and if you're a diabetic you should definately give it a shot. Your feet will love you for it. For the price you pay you get A LOT.

Hey Gorgeous products are VEGAN and ORGANIC and NOT TESTED on ANIMALS!
User reviews
Hey Gorgeous Peppermint Foot Scrub
Love it: For the essential oils and awesome aromas
Hate it: Coz your feet will be the best smelling part of you...lol
Was this review helpful to you?